RAF These Colours Don't Run Unisex T Shirt
Product Description
Description

Delivery & Returns
Description
These Colours Don't Run (And you can stick your press-ups and star-jumps up your arse as well)

⭐⭐⭐⭐ "Great t-shirts, UK company, excellent designs, good fit. Quick delivery, environmentally packaged and for a great cause. Very happy with my purchases." (Sean M.)
⭐⭐⭐⭐⭐ "Excellent quality item and fast efficient service. Item washed very well, did not fade or shrink. Have already ordered again from Lion legion." (Cheryl T.)
Why make it difficult? 
Some of the Nation's finest sportsmen and women served in the RAF and did us proud over the years.
But all that yomping and tabbing with a mountain on your back is hardly necessary in such a refined Service. All the other Services are jealous of the RAF's approach to the job in hand; they just don't always admit it!
This design is an intelligent kick-back at some of the banter coming from the other Services.
Our previous buyers tell us our shirts are the best quality, and they love our first-class customer service, so get cracking and order one now; put a smile on your friend's face on your next video call.

100%, best-quality, strong cotton - lasts a long time.
Check the sizing chart - previous customers say sizing is very accurate.
Long length and 'generous' fit - looks great on any physique.
High Definition Digital Sublimation Print - crisp and fade-resistant.
Seamless twin needle collar - sits better on the neck.
Taped neck and shoulders - more comfortable.
Twin needle sleeves and hem - double-stitched for added strength.
Tear out label - stops 'scratchy neck' syndrome.
Printed and Shipped From The UK 🇬🇧

Go ahead and select your size and colour above.
Delivery & Returns
We provide free shipping on all orders over £49.
Provided shipping is to an address in the UK, we will cover the cost of postage and packing when you order more than £49 of our awesome products (please note there is not enough meat on the bone to give you free shipping AND a discount at the same time).
How long does it take to receive my order?
All of our items are proudly custom made and printed on-demand in the UK. Orders typically take only 3 business days for us to get them printed, dried, quality control checked, and then packed. You can then select 24 or 48 Hrs Royal Mail at the checkout for deliveries to the UK.
How long does delivery take to countries outside the UK?
To see delivery times outside the UK, please look at the Shipping Rates page for details. Typically, it takes 5-10 working days after leaving our facility, with possible further-in-country delays, depending on your local COVID-19 restrictions.
How can I track my order?
We will email you a tracking number as soon as your order is about to leave our Facility.
How can I track my order?
We will email you a tracking number as soon as your order is about to leave our Facility.
What is your Returns Policy?
Although we have a very high level of customer satisfaction and retention, we also recognise that in rare cases, refunds may be requested. We want you to love your purchase, so if you're not 100% satisfied, we accept returns or exchanges within 60 days from the date you received your order. Please email us at support@lionlegion.co.uk
How do I contact you?
If you have any other questions or have questions about problems which are NOT listed on this page, please get in touch via email at support@lionlegion.co.uk
Christmas and Other Anniversary Deliveries
We do our utmost to get orders printed in good time, dried, quality checked and then out the door to you. During the run-up to Christmas we put double-shifts on the printing machines and in the warehouse to make sure we keep up with the high volume of orders. But we don't have direct control over Royal Mail or the couriers and cannot, therefore, guarantee that orders will be received in time for Christmas, Birthdays or other anniversaries or special dates and will not issue refunds on that basis unfortunately. So please make sure that you order in good time.
Customer Reviews
Write a Review
Ask a Question
16/01/2022
David A.

United Kingdom
Lion Legion RAF T-Shirt
Good quality T-shirt with a slogan that makes me chuckle and is much admired by friends and family. Certainly not the cheapest T-shirt around, but good quality, so should outlast cheaper, inferior ones. Delivery time was ok and the garment was well packaged. There is a decent choice of stock covering all arms of British military and in various colours and sizes. Will certainly consider buying from Lion Legion in the future. Good luck Mike and Team in your enterprise.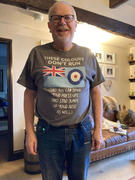 16/01/2022
Michael T.

United Kingdom
Great T shirt
Brilliant product first one arrived no problem, second one I thought I'd been robbed but it did turn up eventually, keep up the good work guys.
08/01/2022
Ruth D.

United Kingdom
T shirt
The t shirt was of good quality and my husband was really pleased to receive it
02/01/2022
Deb W.

Guernsey
Great T-shirt
Item was as described, husband loved it. Will definitely buy again in the future. Thankyou
11/09/2021
Bob

United Kingdom
Excellent!
I love this shirt and my mates have already had a laugh! Keep up the quality merch! I'll be buying more shirts from you.