VLM Veteran Unisex T Shirt
VLM Veteran Unisex T Shirt
Product Description
Description

Delivery & Returns
Description
⭐⭐⭐⭐⭐ "Just brilliant!!!! great customer service" (Ronald P.)
⭐⭐⭐⭐⭐ "Great job fellas, arrived quickly and great quality shirt" (Stevie A.)
VLM Veteran Shirt

When someone starts telling us that a particular group matters over another, then it's time for us to raise our flag. With, literally, thousands of Homeless Veterans on the street right now, it's about time the Government did more to help the people they called upon to do their duty for this Nation.

10% of ALL profits from this particular shirt will be donated to Veterans Aid, a small charity that gets Vets off the street and into employment - To date (December 2020) we have donated £235 to them.
100%, best-quality, strong cotton - lasts a long time.
Check the sizing chart - previous customers say sizing is very accurate.
Long length and 'generous' fit - looks great on any physique.
High Definition Digital Sublimation Print - crisp and fade-resistant.
Seamless twin needle collar - sits better on the neck.
Taped neck and shoulders - more comfortable.
Twin needle sleeves and hem - double-stitched for added strength.
Tear out label - stops that 'scratchy neck' syndrome.
Patriotic logo printed on right upper arm
Created and Printed in the UK 🇬🇧

Go ahead and select your colour and size above
Delivery & Returns
We provide free shipping on all orders over £49.
Provided shipping is to an address in the UK, we will cover the cost of postage and packing when you order more than £49 of our awesome products (please note there is not enough meat on the bone to give you free shipping AND a discount at the same time).
How long does it take to receive my order?
All of our items are proudly custom made and printed on-demand in the UK. Orders typically take only 3 business days for us to get them printed, dried, quality control checked, and then packed. You can then select 24 or 48 Hrs Royal Mail at the checkout for deliveries to the UK.
How long does delivery take to countries outside the UK?
To see delivery times outside the UK, please look at the Shipping Rates page for details. Typically, it takes 5-10 working days after leaving our facility, with possible further-in-country delays, depending on your local COVID-19 restrictions.
How can I track my order?
We will email you a tracking number as soon as your order is about to leave our Facility.
How can I track my order?
We will email you a tracking number as soon as your order is about to leave our Facility.
What is your Returns Policy?
Although we have a very high level of customer satisfaction and retention, we also recognise that in rare cases, refunds may be requested. We want you to love your purchase, so if you're not 100% satisfied, we accept returns or exchanges within 60 days from the date you received your order. Please email us at support@lionlegion.co.uk
How do I contact you?
If you have any other questions or have questions about problems which are NOT listed on this page, please get in touch via email at support@lionlegion.co.uk
Christmas and Other Anniversary Deliveries
We do our utmost to get orders printed in good time, dried, quality checked and then out the door to you. During the run-up to Christmas we put double-shifts on the printing machines and in the warehouse to make sure we keep up with the high volume of orders. But we don't have direct control over Royal Mail or the couriers and cannot, therefore, guarantee that orders will be received in time for Christmas, Birthdays or other anniversaries or special dates and will not issue refunds on that basis unfortunately. So please make sure that you order in good time.
Customer Reviews
Write a Review
Ask a Question
24/10/2020
Christopher P.

United Kingdom
Time for change
Uk Government and society, time for change. We Veterans gave everything for you, it is time for Veterans Lives Matter VLM to take centre stage!!!!!! Great T Shirt I wear it with pride, just like I served for 22 years in the military and now suffering with Complex PTSD / Moral Injury for my troubles!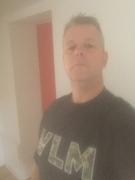 19/10/2020
carl L.

United Kingdom
VLM
Not had chance to wear it yet due no socialising. The quality and material is excellent will shop again
17/10/2020
Soo T.

United Kingdom
VLM T-Shirt AWESOMENESS!
Top quality t-shirt - fab and topical design. A must have for all veterans. Chuffed to NAAFI breaks with it! Top notch service & comms. Fair price for quality clothing. I definitely recommend Lion Legion so get buying for yourself and gifts for crimbo for your veteran mukkas!
01/10/2020
Allen C.

Philippines
Brilliant service and product as usual
Brilliant service and product as usual, keep up the good work !!!
01/10/2020
Karlo S.

Philippines
This is my 3rd purchase
This is my 3rd purchase. All 3 are great quality. Definitely recommend.